The Pattern That Connects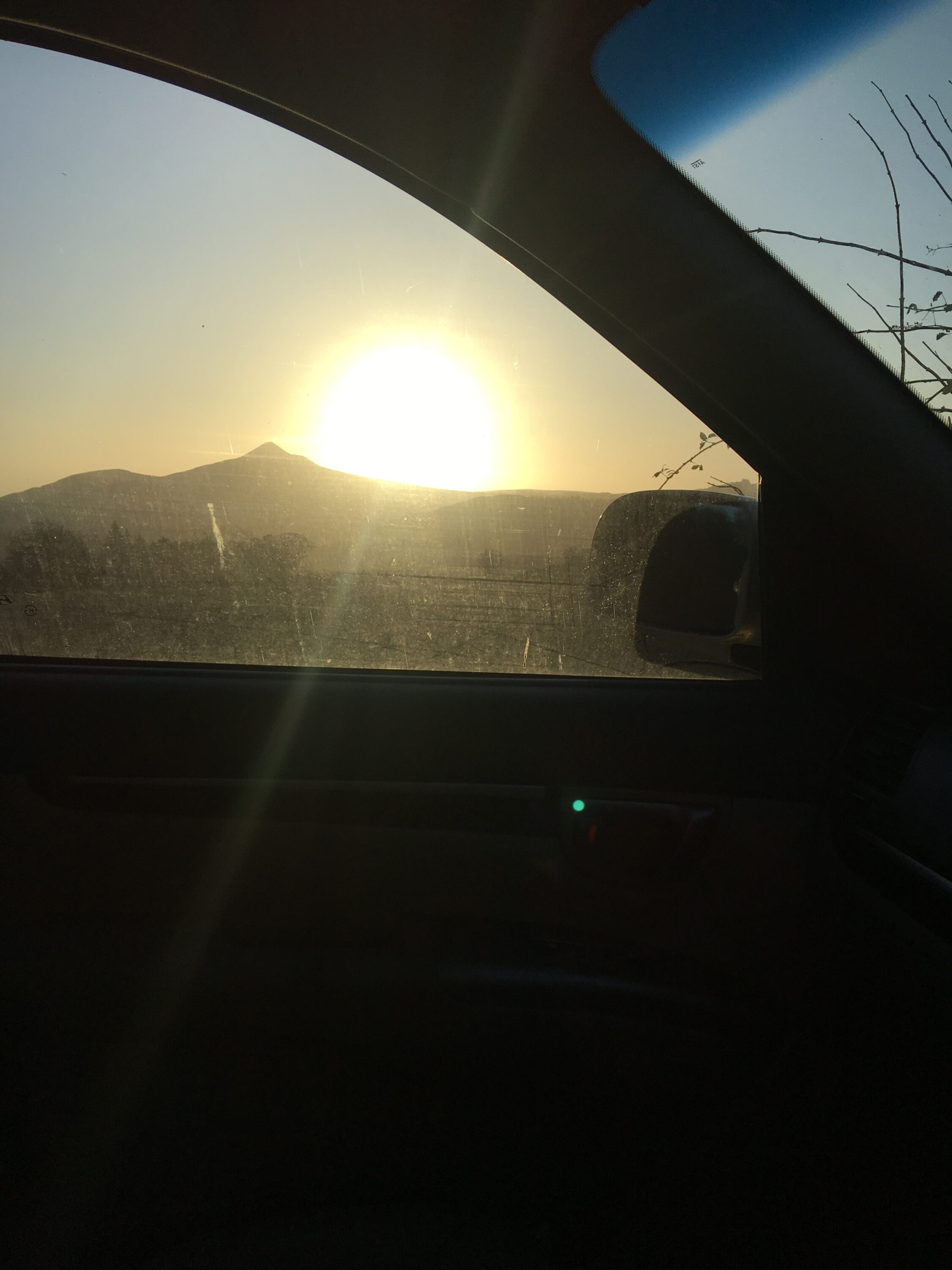 At the time of writing, footage of the launch of Jeff Bezos' New Shepard rocket is circulating widely across the internet. Bezos' Blue Origin company has made several launches recently, but this is the first to have a crew on board. Enthusiasts of the billionaire space race discuss this event triumphantly, fulminating about how it brings us "another step closer to space tourism". I find the techno-utopianism of Bezos or Elon Musk abhorrent. These feats will result in interplanetary contamination, space debris and the sullying of alien territories in ways our species cannot comprehend. These events don't induce the collective excitement they once did; they occur against a backdrop of plague and ecological collapse. Outer space is no longer the fantastical domain where ideological entities compete. Now it's a theatre for the masturbatory spectacles of corporate fiefdoms. As the earth burns these launches look like test manoeuvres for evacuations from a dying planet.
Existential angst precipitated by plague and the accompanying lockdowns of 2020 led me into a sentimental gloom. I found myself reflecting more frequently than usual on episodes from my past; on people I love who aren't here anymore. I returned repeatedly to occurrences that took place in Wicklow in the late 1990s when I was naive, irresponsible and curious. For two years I visited friends in various parts of the county; Annamoe, Greystones, Enniskerry, Windgates and Lackandarragh Upper. Sometimes I'd stay for days on end. I now view the experiences I had on those trips as formative. One weekend in the summer of 1998 a group of us went camping at Knocksink Wood. In the middle of the second night three of us went skinny dipping in Glencullen River. Somehow the scratches I received scrambling down bramble covered banks and the shockingly cold water made this experience all the more exhilarating.  Lying back in the current and seeing stars through the treetops I became overwhelmed by the sensation that I was dissolving. The cacophony of cascades downstream contributed to the sense that I was BEING absorbed, becoming one with the fertile darkness of peaty water. This was the first of several instances in my life that I've had what can only be described as an 'oceanic feeling', one of those rare moments when all things flow together as one.
When I first encountered Earley's work in the mid 00s, he was making sculptural installations from flat-pack furniture and stark drawings of brutalist car parks.  In the following years his attention shifted towards the edges and hinterlands of cities. I visited Earley in 2012 when his studio was located in an industrial estate near a railway works. He described how he was drawn to the aesthetic possibilities of the detritus he encountered in these terrains; construction scraps and the jetsam of new build were a vital impetus for new sculptural entities. That studio visit took place at a time in which construction had stalled on all building sites across Dublin; half-finished shells idled and decayed into ruins from which buddleia sprouted. These ambiguous sites were the tangible fallout of The Great Recession and Earley was drawn to them because of their unresolved in-between state; neither urban nor rural, a seemingly abandoned interzone.  This particularly fecund time in the industrial estate (which Earley once remarked as "thick with wildflowers every Spring") presaged a shift in approach that became fully apparent when he moved to the wilds of Wicklow. Referring to this relocation, Earley stated "the site for the studio is in an auspicious, idyllic place, near the river where I grew up. Now, rather than finding elements which would hint at something greater, a repaired dystopia, I'm looking to something whole, a time for the marvellous. Small revelations". Since this move the subjects Earley is drawn to have changed, as have the materials, and processes he uses. Now his work is more rose-coloured, and there is a propensity towards rustic materials and direct manual techniques.  The presence of the hand is evident in ways that it was not previously; wood is carved and painted. There is a humility to the sticks into which pastoral lyrics are incised:
Going to see the river man
Going to tell him all I can
About the ban
On feeling free
When Earley and I met last Spring, we discussed how during the bewildering period between spring and summer of 2020 we'd both gleaned succour through exploring our localities on foot.
The restorative potential of wandering and the possibilities of the dérive as method are subjects we'd previously discussed during preparations for an exhibition I co-curated in 2015 which Earley contributed several artworks to. The group show at Glucksman Gallery Cork, entitled 'I Went to the Woods', touched upon interconnected themes, such as the artist going 'back to nature' or 'dropping out' and retreating from urban life. The title is an excerpt from 'Walden' by Henry David Thoreau; "I went to the woods because I wished to live deliberately, to front only the essential facts of life, and see if I could not learn what it had to teach".  Related ideas are explored in Akiko Bush's recent book, 'How to Disappear: Notes on Invisibility in a Time of Transparency' which addresses the impulse to reject the demand to be perpetually present with a particular focus on the psychological implications of being constantly online. She writes:
"it is time to question the false equivalency between not being seen and hiding (…) time to reevaluate the merits of the inconspicuous life, to search out some antidote to continuous exposure, and to reconsider the value of going unseen, undetected, or overlooked in this new world. Neither disgraceful nor discrediting, such obscurity can be vital to our very sense of being, a way of fitting in with the immediate social, cultural, or environmental landscape"
There is a long tradition of people venturing to Co. Wicklow in search of visionary encounters. The landscape is striking and often feels otherworldly; studded with megaliths, cairns and Holy Wells all of which have accrued mythic status.  There are bucolic bowers in which to gather and troops of psilocybin emerge in fields and golf courses when the seasons and weather are right. In the early 1970s the band Dr. Strangely Strange embarked on psychedelic sessions in Enniskerry. An evocative photo by Orphan Annie and used on the cover of their 1969 album 'Kip of the Serenes' was taken in the Dargle Valley and captures the heady air of the era. But though Wicklow is occasionally referred to as the Garden of Ireland, much of its beauty is rugged and barren rather than manicured. The picturesque glades and pretty homesteads stand in stark contrast with vast expanses of heather, gorse and soggy blanket bogs. Plains of grey granite scree stretch for miles and merge with the sky during heavy fog. There is a distinctly peculiar character to the landscape and it can seem inhospitable, even malevolent when the light darkens and the temperature drops. The unnerving aspect of the landscape is something that is vividly captured in Robert Altman's  'Images' which was filmed in the autumn of 1971.
Facing the shore of Lower Lough Bray, Lough Bray House is the main locus of activity in 'Images' but also assumes the role of a character in the story. The film focuses upon an author of children's stories who, suffering from psychological strain, retreats from London to her country house where a series of possibly supernatural happenings unfold. The psychiatric condition of the protagonist is intentionally ambiguous and it's unclear whether the bizarre events that occur in the house are really happening or if they are the result of a psychotic episode. The overwrought atmosphere of the film is countered by the eerie stillness of Lough Bray which is shot in luminous winter light. 'Images' is essentially a film about doubles, doppelgangers and fractured selves and the decision to set the film here was entirely apposite; for this particular part of Wicklow is intrinsically uncanny and teeming with ghosts.
Lough Bray House was originally a shooting lodge on the Powerscourt estate, later acquired by the Guinness family. Like many piles it changed hands frequently in the 1960s and was rented out by the owners for extended spells. After 'Images' was filmed the house became home to a coterie who ran it as an informal commune. In 1975 artist Michael O'Callaghan was residing and working there and it was during this time that he established his Global Vision Project. O'Callaghan had a deep interest in cybernetics and systems theory and envisaged Global Vision as a think-tank that would bring together individuals from various disciplines such as science and theology for "think-ins". O'Callaghan was particularly influenced by anthropologist Gregory Bateson who believed that peak experiences brought about by psychoactive substances could teach us about the untapped potential of the human mind. Reflecting on a particular experience in which he felt a "connectedness to the cosmos" Bateson described how he had become aware of "the pattern which connects the orchid to the primrose and the dolphin to the whale and all four to me". In its inception Global Vision was supported by diverse figures including R.D. Laing and Buckminster Fuller.
O'Callaghan's enthusiasm for Fuller's theories led him and others to construct a Geodesic Dome out of wood and plastic on the land adjoining Lough Bray House in the late 1970s. No traces of the dome survive but it has entered urban legend and was still being talked about when I began visiting Wicklow in the 90s.  Apparently, it could be glimpsed from certain corners of the R115 and was a source of curiosity amongst the locals because it looked just like a spacecraft.
Pádraic E. Moore, Summer 2021