Insight: Sarah Morris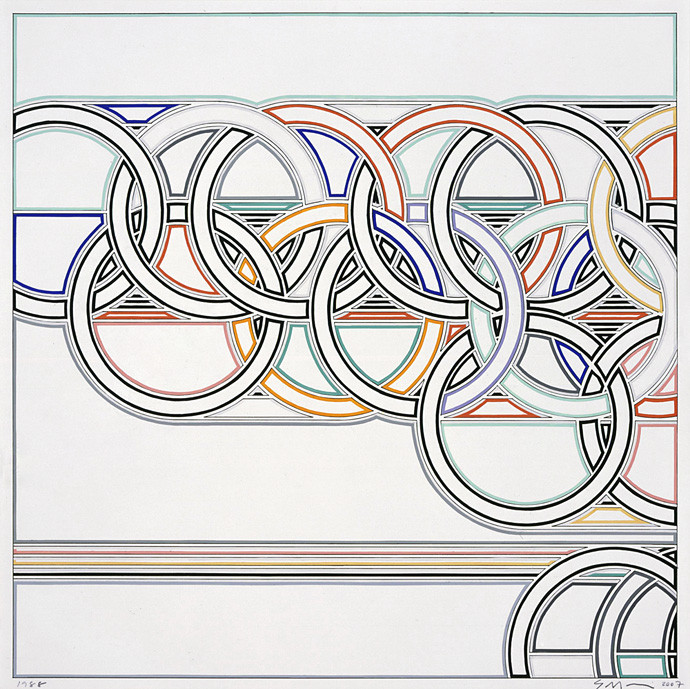 In late 2007, I visited the Max Hetzler gallery, Berlin to view 'Chinatowns', an exhibition by the artist Sarah Morris – of whom I am a long time admirer.  As the title of the show suggests, the paintings and film piece in the show were unified subtly by references to China. Yet all the works were capable of functioning outside that specific thematic structure. The exhibition was constituted mainly of exquisite paintings from Morris' 'Origami' and 'Ring' series – and while in formal terms, the former series initially appeared to homage Vorticism or Constructivism, closer investigation revealed these works to be paper folding diagrams. In addition to drawing attention to incidental art historical parallels between East and West, this clever conflation highlighted that while origami is often assumed to be Japanese, this ancient art form actually originates in China. Equally connotative were the 'Ring paintings which simultaneously evoke the iconic Olympics logo and the networks of beltway roads which encircle Beijing.
Though discernibly dissimilar from her earlier paintings – composed according to grids and architectural motifs – the paintings in 'Chinatowns' were executed in Morris' trademark idiom of sharp polychromic colour planes, composed in semi abstract formation. They also shared with Morris's broader body of work, the incorporation of strategic references into images that remain sufficiently 'non representational' to permit subjective interpretation – with those references pertaining, in this instance, to China's cultural and historical milieu. Also featured in 'Chinatowns' was Morris's film Robert Towne, an interview between the artist and the film director and screenwriter Robert Towne – who won an Academy Award in 1974 for his script for the film Chinatown. Screened in a separate space from the paintings, the film – in which Towne reflects upon corruption, power and conspiracy in the film industry – offered an alternate perspective upon the paintings. Towne's tales of connivance and domination prompted contemplation of the works referring China's cultural and political history through the lens of iniquity and improbity. One of the most stimulating aspects of Morris' work is this capacity to sew webs of disjointed narratives and parallel occurrences, which reappraise history while and illuminate truths about contemporary life while always avoiding   didactic simplification.
A week after viewing 'Chinatowns' I had the opportunity to discuss Morris's work with the artist via telephone. During our illuminating conversation, I was intrigued – but not surprised – to discover Morris did not attend art school, but rather studied cultural theory and political philosophy – disciplines that have evidently impacted upon her practice. Morris' oeuvre is characterized by her tactic of juxtaposition of strategically selected signs within an ongoing, self reflexive and polemical process of production, that repeatedly underscores the flaws and perils of the political, cultural and economic systems in which all of us play a role.
During our dialogue, Morris recalled how, as a student growing up in Providence, Rhode Island, her interest in cultural production and the arguments surrounding it were piqued from afar through reproductions in art magazines and periodicals. She revealed also that during her emergence she was particularly interested in, and influenced by, artists such as Cindy Sherman and Jeff Koons. Though Morris shares with these artists what she terms an ability to "make  the role of the critic superfluous by integrating their critical stance into their practice (1)", in my view Morris's own work is more relevant and  critically engaged  than either Sherman or Koons. While the aforementioned artists appropriate and pastiche signs, objects and commodities, Morris sequesters entire institutions, identities and occurrences – incorporating them into aesthetically pleasurable artworks that order the chaotic present; while raising issues of authorship, originality and truth. During our conversation, it became apparent that, though Morris' practice is manifest most tangibly in films and paintings, these are ultimately by-products of a process of dialogue, analysis and excavation with individuals and organisations that is as radical as her artwork – if not more so.
At the time of our conversation, Morris was commencing editing the 35mm film 1972, which focuses upon the 1972 Munich Olympics. For the film, Morris interviewed George Sieber, psychologist and international security expert engaged – in the months approaching the 1972 summer games – to predict hypothetical worst-case scenarios which might befall the Olympics. Sieber submitted 26 scenarios to security officials one of which, titled Situation 21, was an almost precise prophecy of what became known as the Munich massacre, when 11 Israeli athletes were murdered by Palestinian terrorists. 1972, like Robert Towne, exemplifies Morris' strategy of appropriating and dissecting incidents and reintroducing them into the realm of public discourse via alluring artworks. Morris not only comments upon what she calls "the idea of serial failure in the Olympics", but also raises universal issues relating to the relationship between public spectacle, apparatuses of control and the unsuccesfulness of well-planned projects. 
 This methodology of revisiting and reactivating past situations epitomizing declination or catastrophe, exemplifies to some degree what Morris calls a "negation of  failure (2)". This process demonstrates a fundamental truth worth remembering – that with the passing of time and the alchemistic power of subjective imagination, – it can turn out to be the case that phenomena or occurences initially judged as failures or successes may reveal themselves to be quite the opposite.
(1) Telephone call with Sarah Morris, July 2007
(2) ibid