Conclave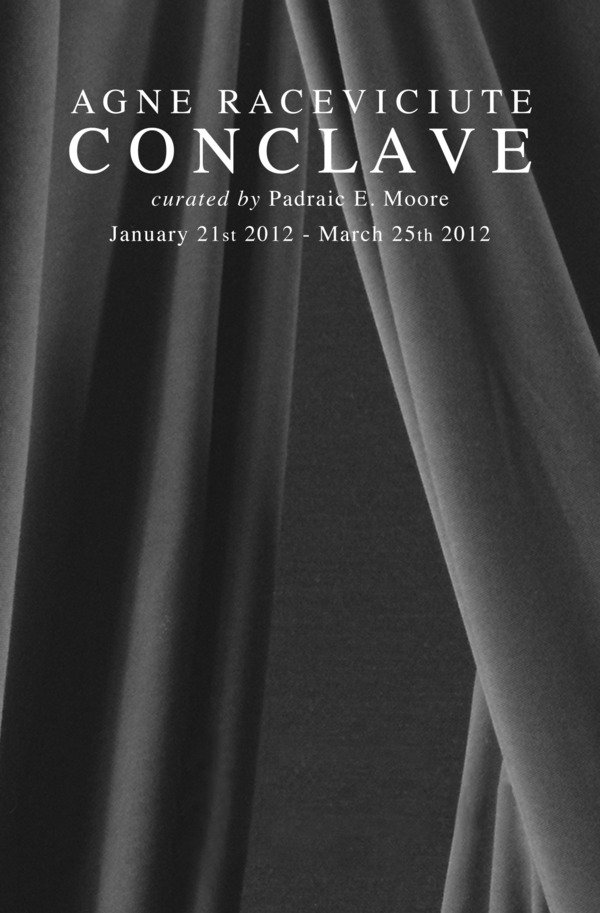 In this solo exhibition by Agne Raceviciute entitled Conclave sculptural and photographic components are combined to create an immersive, visually imposing installation conceived specifically for Galleria Collicagreggi. The components of this installation are not constrained by any one 'subject' but incorporate several specific figurative, organic, and even religious references. Ultimately, the display is evocative of a kind of mise en scene the appearance of which is distinguished by a drift between both natural and the man-made aesthetics.
This drift creates a visual tension present throughout the exhibition and particularly evident in a group of photographs which refer to a site in the Karakum desert, Turkmenistan, known as the Darvaza Crater or Gates of Hell (1).These images are the final result of a process involving the construction of intricate structures produced from textiles stretched over and fastened onto a framework . It is the act of photographing these structures which transforms them from abstract sculptural forms into compositions resembling mysterious landscapes. Through this process random artificial forms are made into cohesive images resembling organic reality. These works betray a desire to explore the deceptive and seductive power of the image and a tendency to emphasise the absolute importance of immediate and tangible experience.
The word conclave originates from cum clavis, meaning with key in Latin and is applied to a secret meeting with religious or spiritual connotations (2). This title underscores the artists intention to create an all encompassing interior; a space in which events -activated by the viewer- will occur. Rather than merely being a vessel in which artworks are placed, the exhibition space itself is an integral element within the work. The title also registers an interest in what might be termed the sacred encounter- with providing the viewer with an experience that is experiential and not merely cerebral. Ultimately, this exhibition is distinguished by the forging of connections between art and ritual, magic and ceremony and a desire to mystify and evoke a range of emotive responses to the unknown, the wondrous, and the sublime, prompted in part by Raceviciute's fascination with what might be termed the inner, private experimentation with materials and modes of making.
1This 328 foot crater is not the outcome of a natural process but an industrial accident which occured in 1971 when a Soviet drilling rig penetrated into a vast underground gas cavern causing the ground to collapse and the entire drilling rig to disappear. The crater has been burning for almost 40 years and can be seen glowing for miles around.
2 It is most commonly used to refer to the Papal Conclave-a kind of election process in which cardinals are actually locked into a room in the Sistine Chapel until they have elected a new pope.