Maradona two for four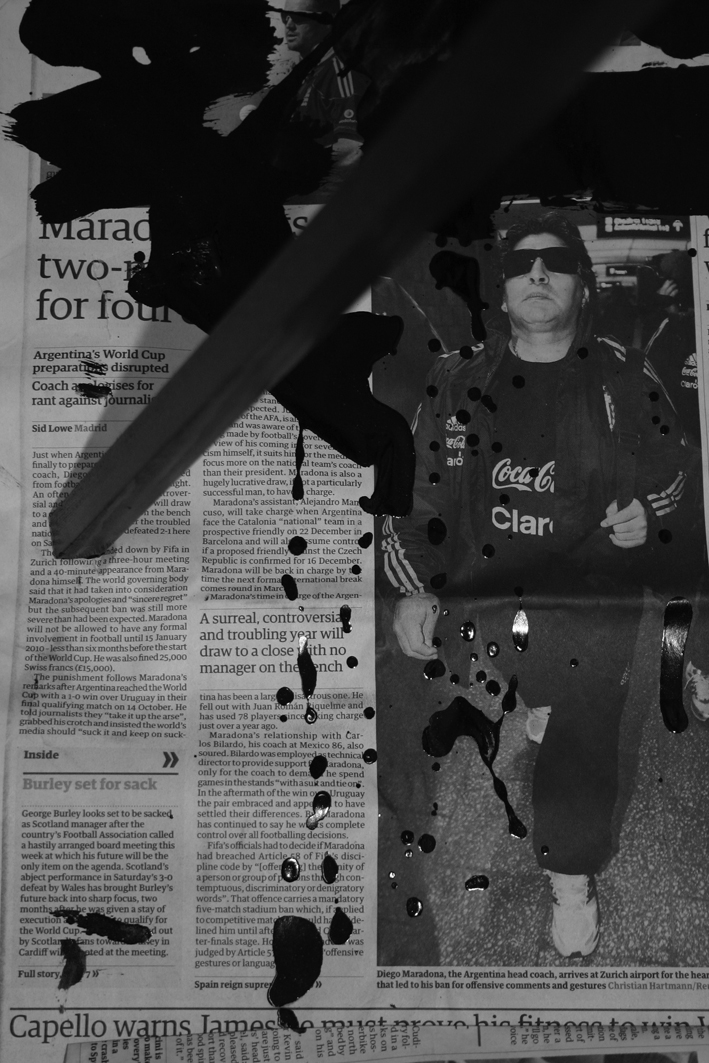 The title of Cullinan and Richards first exhibition in Ireland refers to the two month ban meted out to Diego Maradona after his verbal attack on journalists in 2009. 'The punishment follows Maradona's remarks after Argentina reached the World Cup with a 1-0 win over Uruguay in their final qualifying match on 14th October. He told journalists they "take it up the arse", grabbed his crotch insisted the worlds' media should "suck it and keep on sucking". Fifa punished him according to Article 57, which relates to "offensive gestures or language".' -The Guardian, Nov 15, 2009.
The title, 'Maradona two- for four', lifted from the newspaper headline, reduces this incident to numerical abstraction, two months for four letters. Positioned either side of a specific incident, the numbers two and four are located as event and result, weight and counter weight. The title introduces Cullinan and Richards core preoccupations concerning the relationship of performance to painting, the pliability of the terms abstract and figurative vis-a-vis painting, and offers one particularly loaded lens through which this exhibition may be viewed. For 'Maradona two- for four' Cullinan and Richards have made a monumental painting on plastic that takes up the entire length of the gallery windows. Hung from the ceiling and lit by the artists characteristic fluorescent chandeliers this rough display utilises the V as motif, its blatent materiality overtaking any primary reference to Maradona's crotch grabbing.
Additional Notes:
Figurative for Cullinan and Richards is allied to a kind of primitive realism, visualised in previous work through references to Russ Mayer's Go Go dancers in his 1966 cult classic 'Faster Pussy Cat, Kill Kill', a horse diving performance from Atlantic City steel pier in 1921, found images from homo erotic self publishing from the 1970's and appropriated newspaper pages from the studio floor. Figurative is also associated with an upright vertical space, the position of someone standing in front of a painting.Abstract exists for the artists as exhibition and exhibitionism, the experience and the act of showing paintings. The exploration of constructed modes of display and the positioning of the artwork, in relation to the performative aspects of painting is central to their production. Abstract seems to be paradoxically associated to material reality, the absolute physical presence of  a painting finally overriding any tacked-on agenda. Abstract is used by the artists to describe the relationship of one painting to another in a constructed space, and in considering their production as a material whole, stretched horizontally between one show and the next.
Recent shows include: Positions, Laing Gallery, Newcastle UK, 2009/10 (solo), Reframing, CCA Andratx Mallorca Spain, 2009, EEA The Painting Edition, The Return of the Real, The Whitechapel Gallery, UK, 2009/4, Girl Rider, Mead Gallery, Coventry UK, 2008 (solo), Strippers, Charles H Scott Gallery, Vancouver CA, 2008 (solo), Headquarters, Daniel Spoerri Foundation, Italy, 2006 (solo), Whitstable Biennale, UK, 2006, Documentary Creations, Kunstmuseum, Lucerne Switzerland, 2005. Forthcoming exhibitions include the British Art Show 7, 2010 and dispari&dispari Reggio Emilia, Italy, 2011