Nevertheless, Faith is in the Air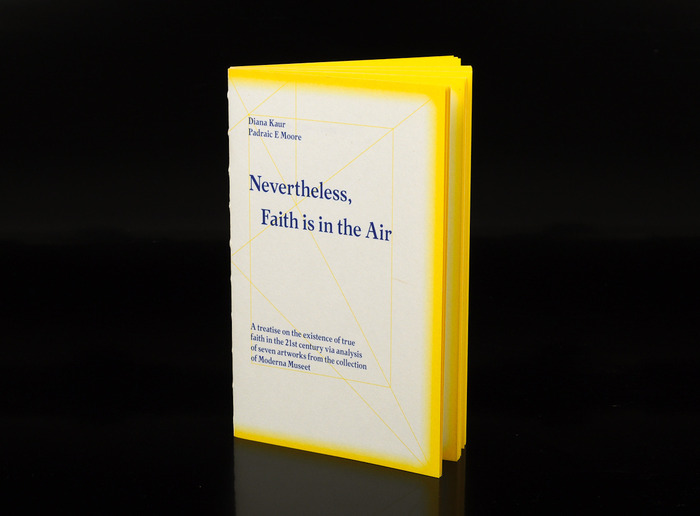 One love is still allowed us, that of works of art. Let us, therefore, fling ourselves upon this last plank of salvation. Let us become the mystics of art.
-Albert Aurier (1865-1892), Foundations of Modern Art (1890)
If the frenzied period of development extending from the late 1890's to the late 1960's was characterised by a optimistic – even blind – faith in super physical powers of art, then it could be argued that, since the late 1960's, that tendency has – for the most part – been inverted. The result of the process of disenchantment, which began at the end of WWII, has been the nullification and denunciation of much of that which preceeded.
Nevertheless, Faith in the Air is a pamphlet, which assesses seven works of art from the last century from Moderna Museet's collection in which the presence of a utopian impulse remains tangible. This project was a collaboration between Pádraic E. Moore, Diana Kaur, Konst & Technik, and Moderna Museet. 
In investigating these seven artworks the authors of this pamphlet underscore that while art has never been and cannot be a substitute for proscriptive religion, it can be a fountain of meaning and a mode of communication capable of elevating us above the void of a faithless existence. The art works selected by the authors are the following:
The Swan No. 14 (1914-15) by Hilma af Klint
Green Split (1925) by Wassily Kandinsky
Evident (1960) by Josef Albers
Black and White / Suprematist Composition (1915) by Kasimir Malevich
Model for Monument for the 3rd International (1919-20) by Vladimir Tatlin
Space-force Construction (1921) by Lioubov Serguéievna Popova
Composition (1929) by Amedée Ozenfant
Using methods of investigative research to critique and reflect on seven artworks from the Moderna Museet collection, the authors of this publication declare that the constructive is the only life; that to create is a joy; that to build is life's purpose and man's function. This publication is a reminder that the latent possibilities of the divine soul are inherent within us, slumbering perhaps, but only waiting to be called into development and expression.
To mark the launch of 'Nevertheless, Faith is in the Air' at Moderna Museet, a performance took place titled The Luminiferous Aether. The Luminiferous Aether comprises of documentation made by Robin Watkins of low frequency audio signals, which originate from the streams of charged particles that reach the Earth's atmosphere through the Solar Wind, giving rise to the Aurora Borealis and other magnetic storms. With temperatures dropping to minus 50°C, the field recordings of Solar radiation were made during three consecutive days and nights outside of a small village in the remote Yukon-Koyukuk region (the Arctic Circle, Alaska). For the studio sound screening, listeners collectively experienced the work through individual radio headphones and receivers, grouped in front of a central transmitter.