Give Me The Night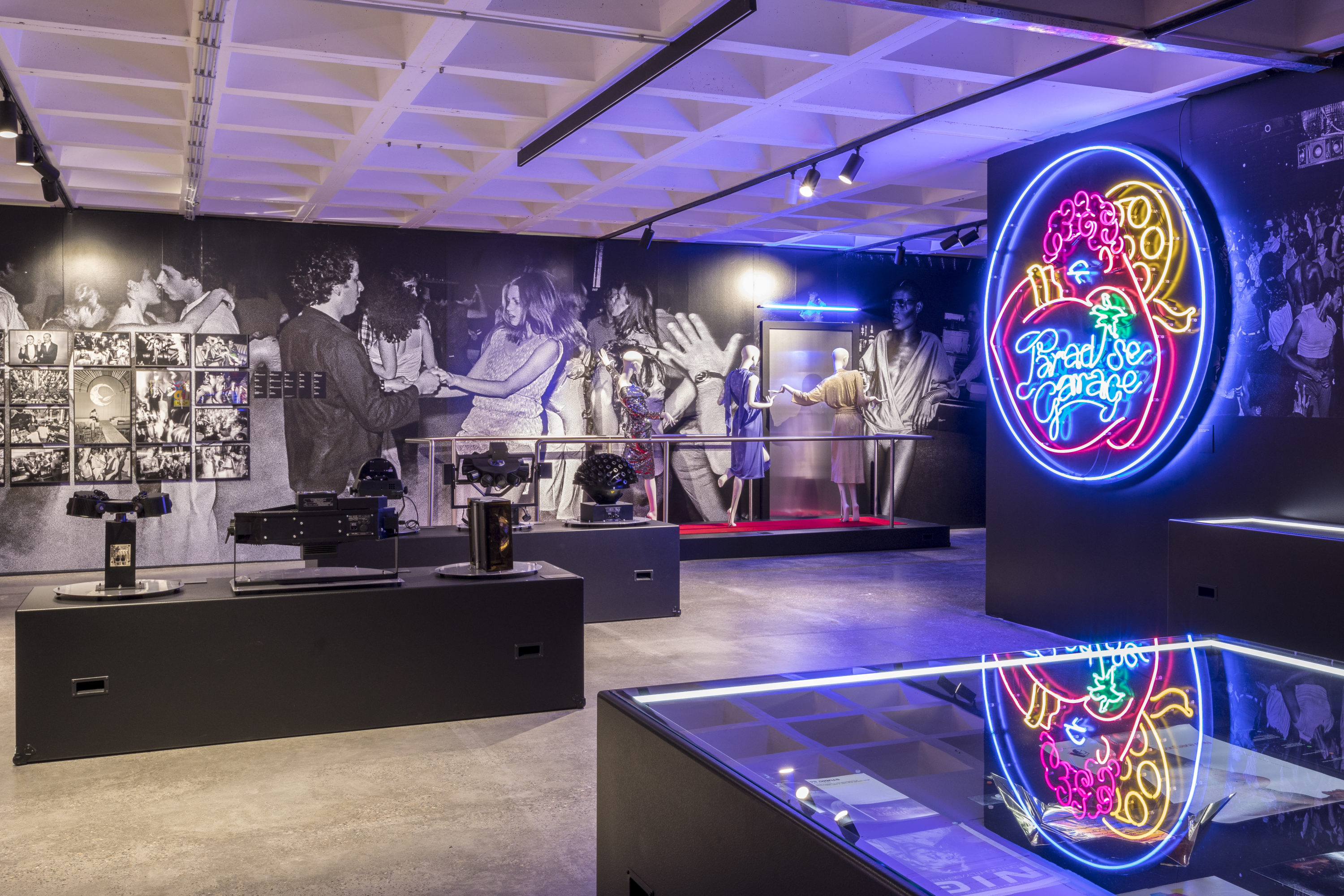 I recently succumbed to what James Murphy of LCD Soundsystem refers to as 'borrowed nostalgia' for unremembered decades. The trigger was the captivating exhibition  at Brussels Design Museum, Night Fever. Designing Club Culture 1960 – Today. This exhibition  conveys the exuberance and vitality of nightclub culture in the last decades of the 20th century and is the first time such a comprehensive array of artefacts has been brought together.
Through a combination of architectural plans, photo-documentation and original artefacts this exhibition summons the atmosphere of several remarkable venues where  pleasure was sought as a means of self-expression. Structured chronologically, the exhibition begins in the 1960s with material from European and American clubs. The last years of that decade were distinguished by an unprecedented set of factors, including increased disposable income; dissemination of musical culture and widespread availability of mind altering chemicals. These factors led to the newly found appetite and necessity for spaces of nocturnal leisure. Aside from their role as hives of countercultural activity, it is evident that many of the clubs featured in this exhibition were not merely conceived as places of frivolous hedonism but all encompassing environments involving a variety of artforms. Moreover, these were also sites of  innovation in the fields of interior design and architecture. Of particular note in this regard are two clubs that emerged simultaneously with similar names thousands of miles apart; Electric Circus (NY) and Space Electronic Florence, Italy.   
Recent years have seen the emergence of an obsession with the Disco genre, particularly in the realms of film, fashion and electronic music with the upshot that clubs such as Studio 54 seem strangely familiar as a result of the cultural depictions. Although the exhibitions would have been incomplete without including material from this well-documented aspect of this history these weren't- the most interesting facets of the exhibition. The most revelatory aspects of the exhibition were those that shed light upon less well known venues and cross cultural collaborations. Of particular note here is Area, a New York venue that was as much a project space and gallery that it was a place for dancing and carousing. Artists including Jean-Michel Basquiat, Francesco Clemente and Kenny Scharf created site-specific installations for the venue, and the main area where screenings and live performances took place was adorned by a vast Keith Haring mural . In the years Area that reached the peak of its activities another equally legendary club opened on the other side if the Atlantic in UK's industrial city of Manchester. The Hacienda, designed by Ben Kelly and financed by Factory Records opened in 1982 and was a venue for live gigs as well as numerous club nights that contributing directly to the growth and popularity of Acid House in the UK. When the club finally closed in 1997 having lost millions it was divided into numerous parts and auctioned off in lots to collectors. Several pieces including the dance-floor and glitter ball are included in this show.
Aside from these purpose built environments of these aforementioned venues many of the most historic clubs of the late 20th century were spaces that had once been used for industrial or utilitarian purposes which were no longer needed for their original purpose.  This occurred in several venues in Berlin in the late 80s and early 90s, most famously in the case of Tresor,  the legendary club that opened in 1991 near Potsdamer Platz in the bank vaults of a department store built in the 1920s and blitzed in WW11. The vast subterranean spaces became one of Europe's most most revered techno venues which is referenced here via a  rusted steel deposit box that  contains cigarette butts and beer bottle caps. 
Kudos is due to the curators of this exhibition (Jochen Eisenbrand, Catharine Rossi and Katarina Serulus) for mapping recent histories that are inherently fugitive and ephemeral and therefore difficult to trace. The inevitable fate of any nightclub is that the buildings where they are housed will be sold and demolished and those who attended them will dispersed or grow out of regular attendance. Indeed, as is evidenced with the fate of several of the communities who frequented clubs referred to in this exhibition, the AIDS epidemic in the 1980s and early 90s invariably altered the nature of nightclubbing and the social mores surrounding it. From a curatorial perspective, it was also a wise move to punctuate the exhibition with a selection of works by contemporary artists working with subjects that resonate with the focus of the show. These works by these living artists injects dynamism into what could have otherwise been a fascinating  but rather sterile affair.  
One such artwork is Mark Leckey's Fiorucci Made Me Hardcore which was made two decades ago but still feels vital and relevant. I'd seen this work on numerous occasions but in the context of this show it assumed a different character. Although the this work is collaged from material that relates quite specifically to a UK, the ideas it conveys are universal. Ultimately the work documents how in the last three decades of the 20th century a visceral exuberance was incited by musical culture that was  anchored in nightclubs and dance-halls.  When I discussed this work with  Mark Leckey I was intrigued to hear him describe it as a ghost movie. His description related to the fact that everything depicted therein has entirely vanished and so the footage is merely a spectral residue of what once was.  In the context of this exhibition Fiorucci Made Me Hardcore  reads as as an elegy for a cultural continuum that is all but dead.
The fact is that the future of nightclubbing (as defined in this exhibition) is uncertain. There are countless reasons for this but the most obvious relate to the fact that people now demand a more 'niche' experience that caters precisely to their appetites; younger people are (arguably) less hedonistic and would rather use of digital dating apps to pre-arrange who they meet and dance with rather than having to negotiate the unpredictability of a sweaty club. Moreover, the fabric of major capital cities gentrification is making spaces where clubs might once have been located unavailable.  Although there have been efforts to include material that shows some of the ways that club culture has evolved in the 21st century it's hard not to feel that the type of group participation and unselfconscious revelry captured in Leckey's work (and elsewhere in the show) is for the most part a thing of the past.  This is one reason why it's difficult not to feel some form of sentimentality when encountering this exhibition. Like many other cultural movements of the 20th century the nightclubs featured in this show were built upon fundamentally utopian intentions and a desire to construct concrete sites for the collective envisioning of a different kind of good life. 
ADAM – Brussels Design Museum 21.11.2018 t/m 05.05.2019