By Design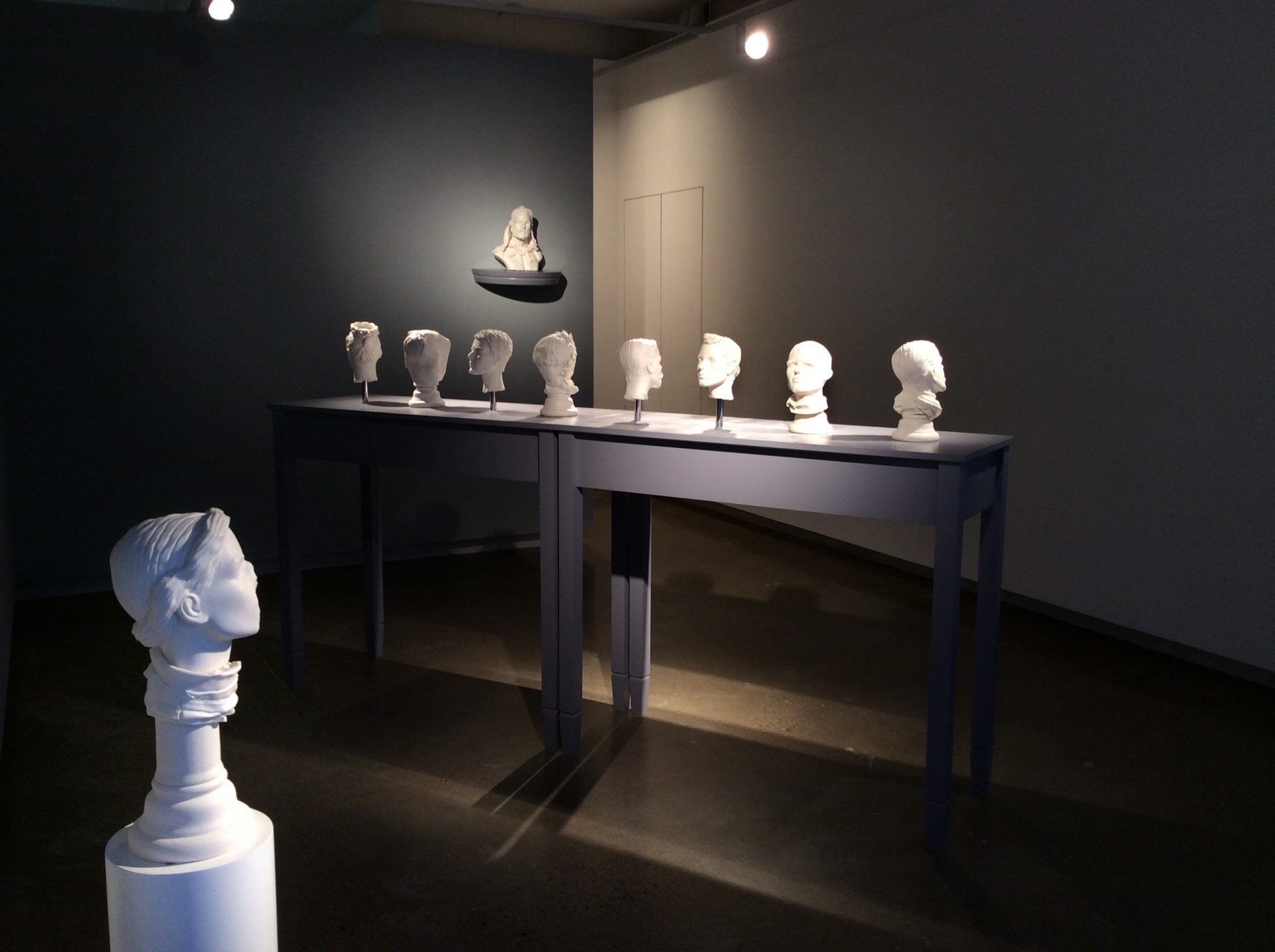 Pádraic E. Moore: We first met in 2006, at which point you already had an established design practice. Can you can give some insights into what made you want to open a gallery?
Oonagh Young: I'd always been drawn to visual art and studied visual communication before setting up a graphic design studio. I had to consider expanding during the 'boom', but realised I would become a manager, which made me question the direction I was taking. Working as a designer with several arts organisations at the time, gave me insights into how these organisations operated and a desire to learn more. Returning to education, I did an MA in Anglo Irish Literature and Drama, followed by an MA in Visual Arts Practice at IADT. Rather than starting from scratch, I decided to combine both strands of my practice, establishing the gallery, while continuing to work as a graphic designer from the same space.
PEM: Was there always an aspiration to have premises?
OY: Yes. When I graduated in 2007, I felt there was a lack of quality venues, particularly for emerging artists. I thought that if I invested in a space, I could create an environment where artists would enjoy exhibiting their work. I wanted to attract good artists, in order to develop a quality programme, so by providing a gallery where walls and lighting had been considered a priority, the space itself became a sufficiently neutral vessel for each artist to make it their own.
PEM: The interior you developed with A2 Architects is utilitarian and very much a white cube environment. This adaptability and versatility seem central to your programme.
OY: I've always been eager to activate the venue by including other art forms, such as: ANÚ Theatre who staged part of 'Vardo' from The Monto Cycle in the gallery; readings from J.G. Ballard formed part of 'Timecoloured Place', as the gallery received the rights to re- publish his first short story; 'Less + More' featured John Rainey and Fiona Mulholland as part of Year of Design 2015 and included A2 Architects, who created an alternative to a plinth for viewing sculptural works in the gallery. This exhibition led to a book, entitled. Transdisciplinary Practice, which I edited with Linda King.
PEM: Are there any exhibitions that were particularly pivotal to the history and evolution of the gallery?
OY: They are all important! One of the earliest was 'Yellow,' a durational performance by Amanda Coogan that took place in 2008 before she was represented by Kevin Kavanagh. In 2012, she also presented 'Molly Blooms', referencing the scales of justice statue on the top of Dublin Castle, who has her back to the city. The exhibition, 'Blasphemy' (2010) was co-curated with Mary Cremin in response to the blasphemy laws still existing in the Irish constitution – an issue that we voted on during the recent presidential election. The exhibition included work by artists such as David Godbold and Nevan Lahart and featured a screening of the film Rocky Road to Dublin, directed by Peter Lennon. I recall that Lennon could not attend but sent a letter that I read at the screening, which was really special. That exhibition later toured to The Dock in Carrick-on- Shannon. 'TimecolouredPlace' (2011) included commissioned works made by economicthoughtprojects (ETP) and Henderson Six, with poetry by Patrick Chapman. Other significant artists who have shown in the gallery include: Alan Phelan, Caoimhe Kilfeather, Amy Stephens, Vittorio Santoro, Dennis McNulty, David Beattie (who also curated 'Tool Use'), Dominic Hawgood (PhotoIreland Festival), Ursula Burke, Tamsin Snow and Sarah Tynan, to name a few. More recently, the 'Treeline Project' (also co-curated with Mary Cremin and funded by the Arts Council's 'Making Great Art' award), anchored the gallery more firmly in the locality by proposing: a tree-planting project for the street; projecting the entire book of Joyce's Ulysses on a loop; and building a pavilion (designed by Donal Colfer Architects) in Liberty Park, which was activated through a series of artistic projects and events. This project aimed to highlight cultural aspects of Dublin's north city centre (Monto) and to alter a generally accepted and often very negative narrative attributed to the area.
PEM: This was one of several projects that you initiated to foster connections with local communities. Can you discuss other examples?
OY: Local children have always been curious about the gallery and I got to know some of them a little bit over time. It came to my attention that these kids were quite excluded, so to create awareness that this is their territory, I developed a project that materialised into a comic entitled BUZZ. The process entailed me meeting with several children in a local school and recording their insights on day-to-day life. I then commissioned two illustrators to depict the stories directly from the audio files. This meant the children were anonymous, which gave them the freedom to tell their stories; to say whatever they wished. I held an exhibition of the children's own work of city centre landmarks in the gallery to officially launch the comic and I feel this had a significant impact upon how the gallery was perceived. Because a lot of the children live around here, they now have a connection to the space.
Being a member of The Monto Arts group has been very important. Working closely with Sheena Barrett in The Lab, Helen Carey of Fire Station Artists' Studios and Talbot Studios means there is a local support structure which is vital when running a space alone. We recently did a project called 'Print n Run' in the gallery this summer, as part of the Crinniú na nÓg festival, whereby artist Katherine Maguire facilitated the gathering of slogans from local children who were invited to screen-print their favourite statements onto T-shirts.
PEM: Let's discuss your curatorial strategy. I'm sensing that your methodology is quite intuitive?
OY: I have approximately six shows a year and am generally on the lookout for interesting recent graduates or unrepresented mid-career artists who may have new work they want to explore or who have not shown for a long time. Obviously, there is a desire for artists to make new work and this provides a context and incentive in which to do this. I don't strive to fill the space constantly, as I continue to work as a designer in order to fund the gallery. This means that there is space in the schedule to include other art forms and I would like to think that people can be surprised by what takes place in the gallery.
PEM: Would you say that the two strands of your work influence one another and if so, how does this manifest?
OY: Absolutely; it is a symbiotic relationship. I've had the pleasure of working as a designer on many artists books and working with all the major art institutions in Dublin. This has helped me make many connections which have assisted in the programming and promotion of the artists I have shown in the gallery. On a more direct level, correlations can be made between blank walls and blank pages, where some sense of cohesion and/or continuity is required in an overall approach and layout. Ultimately when it comes to an exhibition or a book, it's crucial to think about the whole picture. While a book can never replace the presence of an artwork, my aim as a designer is to reflect the essence of an artists' practice in print form.
PEM: What's next for the gallery?
OY: I am in the process of assembling a comprehensive website that will function as an archive and provide an overview of the diversity of projects. I'm looking forward to solo shows by Colin Crotty (17 October – 16 November) and Brian Fay (22 November – 22 December) before the end of the year.