Industrial Music for Industrial People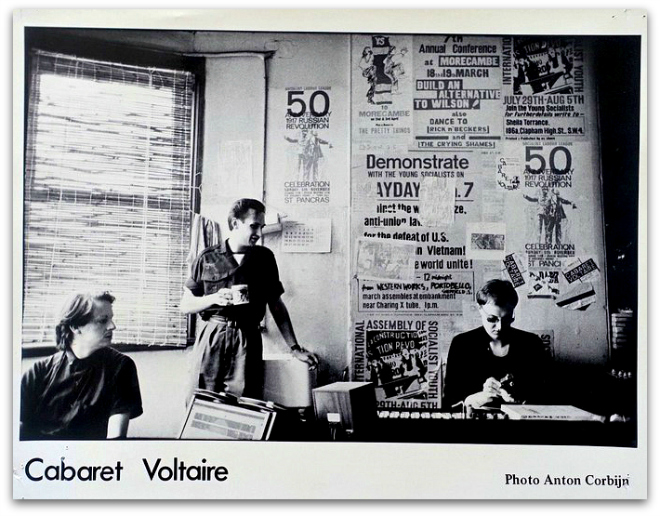 In recent years there has been an upsurge of academic interest in Throbbing Gristle and Cabaret Voltaire, two groups who emerged in England during the late 1970s as proponents of industrial music. From today's perspective, their strategy of co-opting music industry apparatus as the means of disseminating audacious and challenging art seems particularly radical. Moreover, recent reappraisal of these artists reveals how, in utilising concepts gleaned from visual art and performance, they pioneered an art form that can be described as truly intermedial.
Both groups emerged from once-industrial cities now in terminal decline: Throbbing Gristle (TG) came from Hull and Cabaret Voltaire (CV) from Sheffield. Members of both groups have stated that the urban fabric of these cities was a major influence on their work. TG grew out of COUM Transmissions, a team of performers who share affinities with Fluxus and Viennese Actionism [1]. By the mid-70s they had gained a reputation for staging happenings which involved masturbation, bloodletting and defecation. Consisting of cathartic actions and abject assemblages, their 1976 show 'Prostitution' at London's ICA is now considered a milestone in late twentieth century British art. When COUM evolved into TG, they maintained these performative approaches but also integrated a strong sonic element into their shows. They generated forcefields of electronic sound which were intended to have a visceral and all-encompassing effect upon audiences. Incidentally, TG were scheduled to perform in February 1979 at a now legendary 24-hour happening entitled 'Dark Space' at Dublin's Project Arts Centre, but stormy weather prevented them from travelling. Recent years have seen a revaluation of Throbbing Gristle's oeuvre, with two rare performances taking place at KW Institute for Contemporary Art, Berlin. A major exhibition of COUM Transmissions archival material took place in February 2017, as part of Hull's year as UK City of Culture, while Cosey Fanni Tutti's autobiography will be published later this year.
The concept of sound as a weapon was key for Cabaret Voltaire, whose early performances incorporated reel-to-reel tape machines, slide projectors and primitive electronic instruments. The fact that the group took their name from the Zürich nightclub where the Dada movement was founded in 1916 gives an idea of the irreverent attitude they espoused. Long before they began producing records that could be disseminated via conventional means, CV were blasting musique concrète onto the streets of Sheffield. Hybridity was a key aspect of their early work – a fact that was highlighted in a recent interview I conducted with Stephen Mallinder, one of CV's founders. He recalls the group's contribution to the 1976 Edinburgh Fringe Festival, when they posted what he described as a "performance package" to festival organisers. The package contained films, tape recordings and cut-up montages, as well as instructions on how to present these elements to audiences as an immersive installation.
Mallinder explained that, "while making music seemed to be a more immediate and collaborative way of expressing ideas, the visual output of the band was always equally as important".[2] Of particular significance was the group's use of the cut-up technique, which they applied to electronic sound technology, but also to visual performances in which the surface of Super 8 films were often scratched, painted or collaged together. The arrival of domestic video technology enabled the group to duplicate and disseminate their visual material more readily. Mallinder stated that they "never viewed video as a merely promotional tool, but always as an art form". For CV, "visual art and sonic art were interdependent". They were not seen as "hierarchical, but as interacting mediums".[3] The aesthetic significance of CV's work was widely recognised. Their ground-breaking music video Sensoria (1984), produced in collaboration with film director Peter Care, was one of the first videos to be acquired by MOMA, New York.
These groups had little or no formal music training and saw the music industry as a means to an end, rather than the end in itself. Given that both groups dealt with sounds, images and subjects that many found repugnant, it is somewhat surprising that they gained such a substantial following. This was particularly the case for CV, who steered their work in a more commercial direction towards the then emerging dance scene. Perhaps one of the most important aspects of their legacy is that it represents a transition in culture; their early work was the outcome of technical experimentation constituting something of a death rattle of radical art "before it was contextualised by brand aesthetic and entirely absorbed into entertainment, leisure and the creative industries".[4] One can trace a lineage of these artists back to Futurism and Dada, whose proponents sought to generate art that was unorthodox, transgressive and insistently opposed to bourgeois values. However, one might also argue that the work of these artists also represents the culmination of the twentieth century avant garde, in that they devised a sensibility that would become part of the fabric of the everyday, disseminated far and wide via the conduits of recorded music. Do these artists deserve the recognition they are receiving? The proof is in the listening: be sure to pump up the volume.
[i] Fluxus emerged in 1960 as a network of artists who corresponded and collaborated internationally. More an artistic approach than a formal movement the network of artists included George Maciunas, Yoko Ono, Nam June Paik and Joseph Beuys. Fluxus actions combined methodologies of visual art and music and often sought to engage audience members via participation.  Vienna Actionism was a particularly controversial movement which shared certain commonalities with Fluxus but was concerned particularly with tahoo issues and all that was socially repressed. Performances were often masochistic in nature and extended beyond the boundaries of what was legal.
[ii]  Interview with Stephen Mallinder, Spring 2017.
[iii] Ibid.
[iv] Ibid.