Sorted, Resorted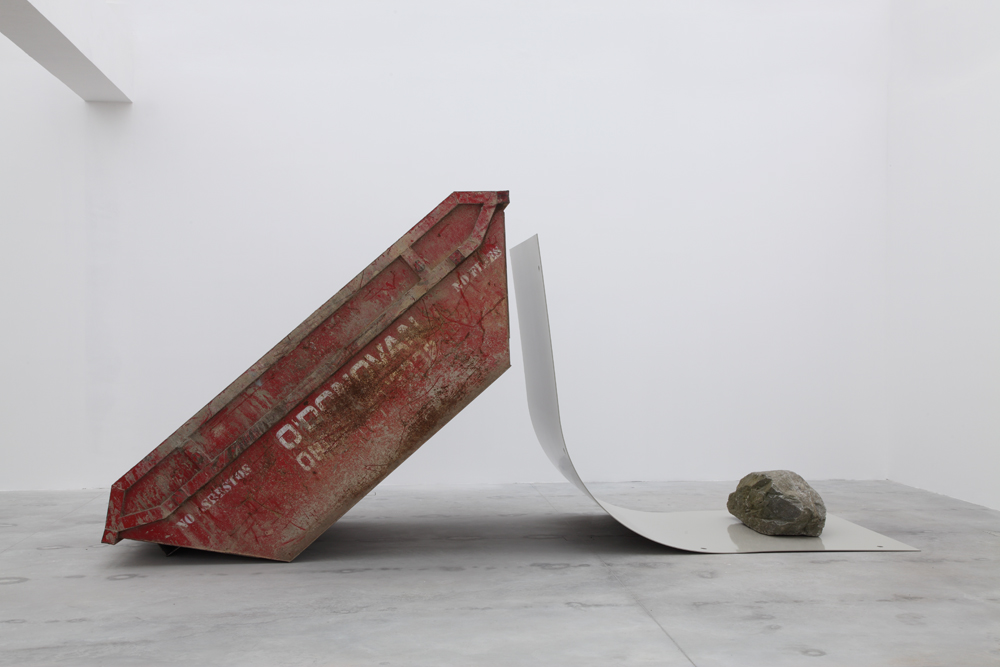 A preoccupation with ordering and indexing is conspicuous throughout Gabriel Kuri's survey show at Wiels. The urge to tabulate is palpable as a rationale behind discrete pieces, but also in the Mexican artist's overarching conceit, which entails arranging all works in the exhibition (numbering over 60) into four categories: metal, paper, plastic and the more heterogeneous 'construction materials'. Navigating the exhibition, one has the cumulative sense that Kuri's compulsion to sort (and resort) is rooted in a desire to interrogate 'civilisation' by scrutinising the substances that make up its infrastructures.
Many works in the show could be described as assisted readymades; found elements alchemically combined so as to transcend their original function and assume new metaphorical lives. In this sense, much of Kuri's oeuvre evokes Pierre Restany's definition of Nouveau Réalisme (as outlined in that group's 1960 manifesto) as the 'poetic recycling of urban, industrial and advertising reality'. Another strategy frequently adopted by the artist entails fabricating enlarged replicas of quotidian objects related to financial exchange, such as his upscaled till receipts (here transformed into tapestries) or plastic bread clips. In reconstructing the administrative detritus of commerce, Kuri combines ethnographic analysis with formalist concerns.
A particularly successful aspect of this show is how the schema responds to the postindustrial architecture of Wiels, whose galleries vary in size. The scale of the human body, and its role as a vital conduit in the cycles of consumerism, are constant foci in Kuri's output: this is touched upon in Complementary cornice and intervals (2009), an array of miniature toiletry products gleaned from various hotels, balanced atop slabs of variegated marble. Yet moments of monumentalism also punctuate the exhibition, as exemplified by .)(. (2013), consisting of a skip and a curved sheet of metal, both tipped upright and pinioned by the weight of two boulders.
The central positioning of this edifice, which relies upon counterforce to keep it upright, is significant. Its seemingly haphazard contingency radiates volatility onto all of the surrounding artworks. Precarity also emanates from Untitled (Charted Missing Data) (2016), inflated condoms nestled into a honeycomb slate structure and displayed on a stainless-steel table. This assemblage instantly evokes a cross section of an insect colony; the tightly inflated latex membranes possessing a distinctly larval appearance.
The material Kuri 'denatured' to greatest effect, however, is hard cash, which appears throughout the show in various guises. In some instances money is presented in a manner that elevates its inherent worth while also highlighting its aesthetic properties, as in Box for Four (2014), in which wads of colour-coded notes are lodged inside a minimalist stainless steel cube. Elsewhere currency is presented as something disposable, abject and orphaned from the circuits of exchange that conceived it. The immersive installation Donation Box (2010–19) comprises vast expanses of sand, stretching across the gallery floor and speckled with cigarette butts and one- and two-cent copper coins. Belgium recently followed the example of several eurozone nations in discontinuing the circulation of these coins, having deduced that they were too costly to produce. More copper coinage appears in Broken Line (2011), scattered like bird droppings under an elegant armature studded with hostile antipigeon spikes. Here, money and waste are conflated, currency cast as filthy lucre.
Although Kuri's work is anchored in materiality and engaged in an art-historical dialogue (with postminimal sculpture in particular), it is his ability to give form to invisible realities that imbues his art with relevance. Without didacticism, he asserts that the fabric of society is shaped by abstract, unseen transactions that hold the power to make the value of everything – even money – mutable.
Gabriel Kuri, sorted, resorted, Wiels, Brussels, 6 September – 5 January 2020