Defastenist Manifesto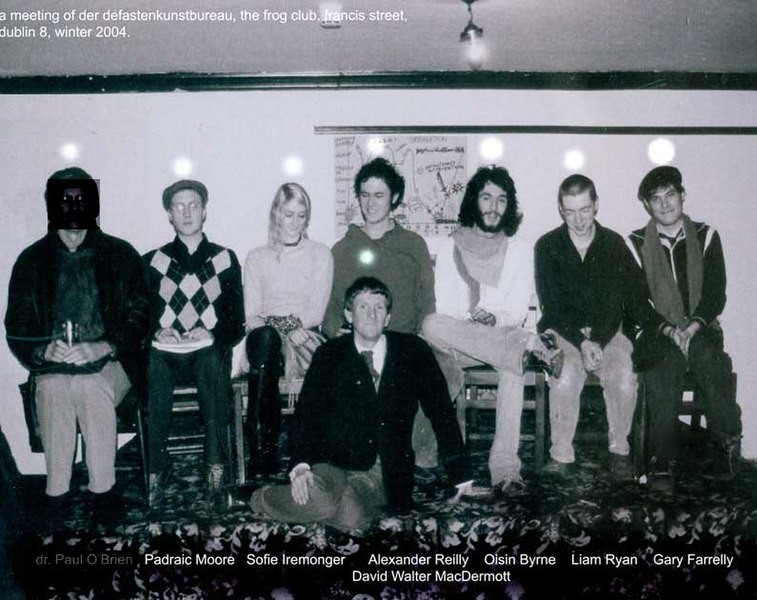 Defastenism is a Remodernist art movement founded in Dublin in 2004. The Defastenists are also known as The Defastenist Party. Individuals who have participated in it include Donna Marie O'Donovan, Oisín Byrne, Gary Farrelly, Pádraic E. Moore, Alexander Reilly, Liam Ryan, Sophie Iremonger, Nessa D'arcy, David Turpin, Christoph Kronke et al.
Origins
Defastenism was founded in May 2004 by undergraduates at the Dublin National College of Art and Design, Gary Farrelly,  Ben Mullen, Alexander Reilly and Seanán Kerr. Moore, Farrelly and Reilly co-wrote a Defastenist manifesto. The membership consists of artists, musicians, architects, writers, film makers and designers. The Defastenists are a self-declared Remodernist art movement. "Defastenism" is a term coined by the group. Moore described the use of the word:
The term comes specifically from the idea of unbuckling the metaphorical seatbelt. The concept that one must "Defasten" from the Jetzeit.The aeroplane—a constant motif in Defastenist art—is one of the symbols, which we believe defines our zeitgeist. The Defastenists believe contemporary culture has become afflicted by "cultural paralysis", and endeavour to construct a revolution of "vigour and vitality".
They have a strongly theatrical, propagandistic and rhetorical self-promotional style (reminiscent of early 20th Century movements such as Dada), including appointing themselves to ministerial posts of the imaginary "Kunstrepublic". This ideological DKR nation was according to Pádraic E. Moore, "definitely a symptom of not being able to deal with the city that we're living in." Their expression of an inner world has some parallels with Surrealism, as does their fixation with obsolescence and the uncanny.
As of 2007, with the resignation of Alexander Reilly the remaining group's most prominent members are Liam Ryan (London), Pádraic E. Moore, Gary Farrelly (based in Paris), David Turpin (Dublin), Donna Marie O'Donovan (Dublin) and Christoph Kronke (Berlin).
MANIFESTO
The Defastenists state:
We believe that art is a mission demanding complete fanaticism.

It is our duty as Defastenists to excavate fully our fetishes, obsessions and desires through material forms of cultural production.

We oppose aesthetic dematerialization and are dedicated to the art object, the obsessive generation of which manifests itself in all aspects of Defastenist activity.

Our meticulous process of production in any and all media reflects a fundamental faith in the Utopian functions of art.

We reject cynicism and disaffection. We are allied to the founding Fathers and Mothers of Modernism and share their faith in progress.

Defastenism proposes an art that is all encompassing. Our practice unites the conscious and the unconscious, the private and the public. It is inflected with nostalgia; it is of the present and for the future.

The Defastenist Party and its members assume an auto-propulsive role in the actualisation of personal and professional ambitions, while maintaining complete loyalty to the Party.

We aspire to be both an institution and an Establishment, complete with rules and rigour.

At all times there exists a physical headquarters from which we conduct our ventures and campaigns.