Conversation Piece II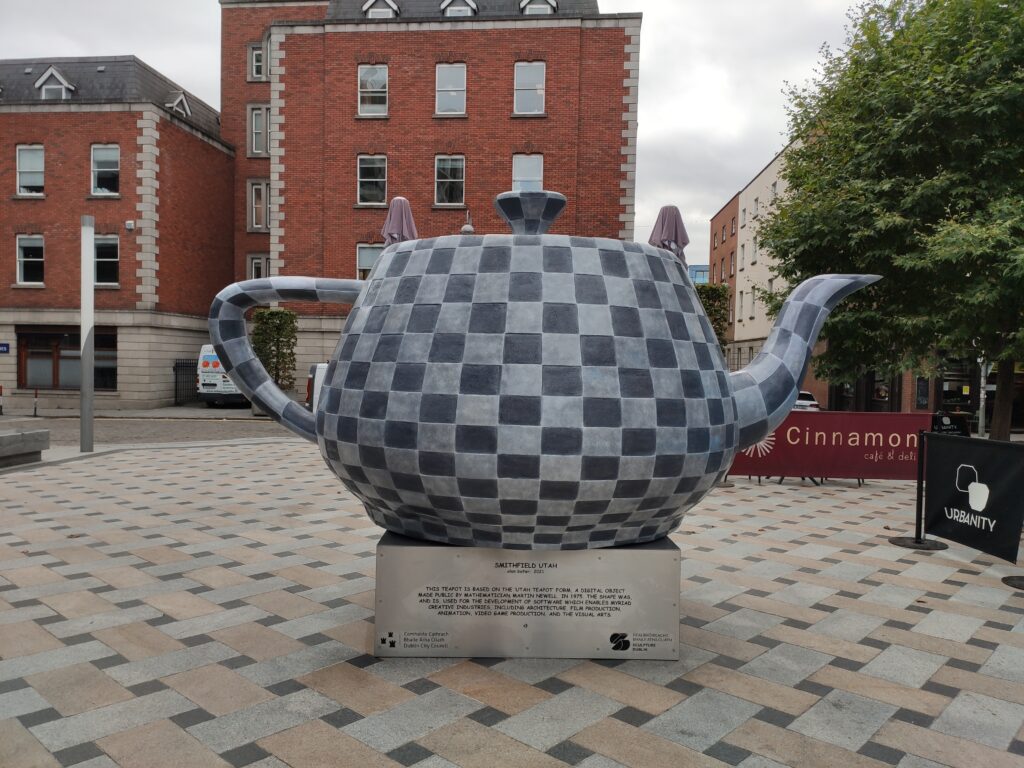 For the second in the Sculpture Dublin 'Conversation Pieces' series, guest curator Pádraic E. Moore chats with Alan Butler and Dag Spicer.
The 'Utah Teapot' is a virtual teapot form, first devised and made publicly available in 1975 by mathematician, Martin Newell. The extent to which the image was rapidly embraced and utilised was described by Newell as "the 1970s version of something going viral". This iconic teapot is a key reference in Alan Butler's sculpture for Smithfield Square Lower in Dublin. The conversation will explore the implications of rendering a virtual image as a durable and permanent object. We will look at the history of Newell's teapot, and consider what it means to collect and display technological artefacts – and the oral histories surrounding them – in the 21st century.
Alan Butler is an artist living and working in Dublin. Educated at NCAD, Dublin and LaSalle College of the Arts, Singapore, he works across a range of media to primarily explore digital cultures and video games. His work has been exhibited widely in museums, galleries and arts festivals around the world, and is part of many collections, including The Irish Museum of Modern Art, The National Gallery of Ireland, and the Arts Council of Ireland. He is part of the multi-disciplinary collective Annex, currently representing Ireland at the Venice Biennale of Architecture 2021.
Dag Spicer is Senior Curator at the Computer History Museum in California, USA. He has guided the strategic direction of the museum's permanent collection, the largest and most comprehensive grouping of computers, software, media, oral histories, and ephemera in the world. He has also played a key role in shaping the Museum's exhibitions, lectures, programming and education initiatives. Dag serves on several museum boards, as well the editorial board of the IEEE Annals of the History of Computing.